Why Van Serai?
This lodge serves the purpose for those who want to be in the most peaceful surroundings of the Himalayan forests. The lodge is located between the two sets of ancient Shiva temples that render energy naturally. The quaint town of Jageshwar and the streams flowing through the dense deodar jungles make the ecosystem unique. These features add to the locational advantage of Van Serai Hotel. It is the first Himalayan Spiritual Lodge in Kumaon that helps meditators and spiritual seekers find quiet places for their practices. The food, accommodation and the systems are designed to help the visitors experience meaningful stay, vacation and excursions.
Read More
Get Instant Information
At the Lodge
Once you are at the lodge you are at home. This is your abode, it is no longer a hotel you have booked. The experiences that you draw in your comfort zone are related to great dining, your spirituality and inner self, the ambiance of Van Serai and the deodar forest around it, the forest walks, the energy zones of nearby temples, local hillfolk simplicity and their lifestyle. You will want to keep coming back!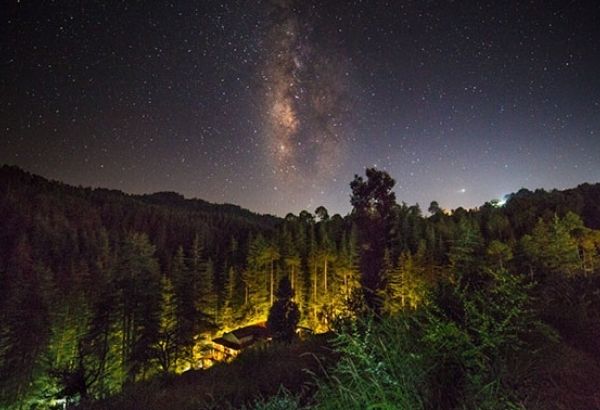 About Jageshwar
Jageshwar is a quiet hamlet, set in the Himalayan peaks, surrounded by Deodar forests. Jageshwar is the center of energy, perched at an altitude of 6135 feet. Believed to be the abode Shiva, it is one of the twelve 'Jyotirlingas.
Unique Features: Short treks; Pilgrimage; Local cuisine; Old Kumaoni Style Architecture; Bird Watching; Camping; Yoga and Wellness Sightseeing: Temples of Jageshwar and Vriddh Jageshwar, Patal Bhubaneshwar, Binsar Sanctuary. Archaeological Museum, Chitai or Golu Temple (God of Justice), Binsar Wildlife Sanctuary, Traditional Weaving Centre, Sun Temple, G.B.Pant Agriculture Research Centre.
Read More
Testimonial Video
Peace Of Mind Awaits At Van Serai

Embrace the Ultimate Mountain Experience at Van Serai

Explore peace and tranquility at Van Serai